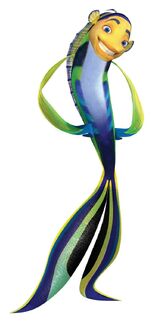 Oscar is the main protagonist of Shark Tale.
Biography
Edit
Beginnings
Edit
Oscar is a pompous jerk who treats his friends like dirt and will always take the easiest route to get ahead in life.
He has an extreme low self-esteem since as long as he can remember as he was made fun from his classmates because his father was a tongue whale scrubber.
Oscar is also somewhat of a liar as he had everyone convinced he had killed Frankie, earning him the title of the Sharkslayer.
Oscar is a Bluestreak Cleaner Wrasse.
Oscar has a PlayStation 2.
Oscar's father was also a whale washer.
Oscar has a Shark Kink. What hat is specifically has yet to be revealed.
He dreams of becoming quote "Supa star mac daddy fish"